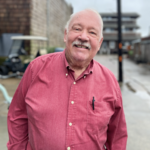 Doug Roach
Real Estate Associate Broker
A little bit about me...
Doug graduated from college with a degree in business. As a senior marketing project for a class Doug developed a business plan for a restaurant, this caught the attention of a local businessman, and they formed a partnership and opened this business until they sold it to a local investment group.
Moving to the San Francisco bay area Doug worked in sales where he met his future wife Linda. She talked about her home on an island in New York. They were engaged and moved to Fire Island were they opened Fire Island Florist in Ocean Bay Park. Doug also got his real estate license. They were married in the Free Union Church in Ocean Beach where Linda was baptized as a child.
A real estate opportunity was presented to Doug in California so they sold the florist business and relocated to the west coast. Doug got his contractors license and operated the contracting business for the next 30 years. After selling the business, Doug and Linda returned to Fire Island and the real estate business.
Doug and his wife are very involved in the Free Union Church. Linda became the president of the board of trustees with Doug doing repairs to the building when necessary.
In his spare time Doug likes to read, cook and garden.