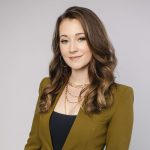 Sydney McCoy
Licensed Real Estate Broker & Owner
A little about me
Sydney, aka Syd, is a co-owner of Luxury Fire Island Homes, a Fire Island Homeowner, and co-owner of The Real McCoy Team - Your Home Sold Guaranteed, located in Farmingdale, New York. The best mother and daughter team out there! She has enjoyed helping her clients in renting, buying and selling homes for the past 6 years in New York and Massachusetts. Though she has worked in real estate since the age of 18, she graduated Northeastern University with a degree in Finance. Sydney has experience working at large accounting corporations, such as PwC, real estate private equity boutiques in Massachusetts, and education and technology start-ups.
As co-owner of Luxury Fire Island Homes, Sydney uses technology to beneficially impact her team and her clients. Her unique and innovative approach to buying, selling and investing in real estate contribute to every 5-Star review that her team receives.
Her vast experience allowed her to recognize her true passion to build businesses that impact millions of people's lives. Sydney's mission is to help every human reach their full potential. She wants to create a world that recognizes human potential as measurable for success (rather than the amount of money in your bank account or how many hours you put in at work).
In her free time, you can find Sydney taking personal growth courses on Mindvalley.com, working out at the gym, dancing, laughing, reading about alternative education systems or traveling the world for unique experiences!