Located just a few miles across the Great South Bay (and 50 miles east of NYC), The Fire Island community of Fair Harbor is the quintessential getaway from the hustle bustle of modern life. Keep reading to learn more about Fair Harbor!
Fair Harbor History
Fair Harbor began as a real estate endeavor between George Weeks and Selah Clock in 1923. Their idea was to make Fire Island beach houses accessible to the "working man". They did attract a strong clientele from south shore Long Island hamlets like Bay Shore and Islip. However, the timing (and nature) was not in their favor. The Great Depression strained their concept, and the Hurricane of 1938 left only eight Fair Harbor houses intact.
Subsequently, the enterprise went bankrupt, and it wasn't until after WW2 that the community made a comeback and attracted New York City's metropolitan residents.
Fair Harbor Real Estate and Amenities
In less than just one square mile, Fair Harbor features about 350 modest yet gracious homes dispersed among 13 blocks. A few of these homes date back to the 1920s, but most of them were built in the 1970s and are fairly recent.
There are no hotels in Fair Harbor, but the real estate rental industry is thriving and there are plenty of availabilities.
It's a charming, convenient place to live thanks to the local amenities, such as an upscale food market, post office, liquor store, ice cream stand, and a general hardware store. It's also home of Le Dock, a popular bar and restaurant with incredible views.
The added security is also a plus for peace of mind; there is a state-of-the-art Fire Department and EMS in Fair Harbor. The Fair Harbor Community Association was created to give the town a unified voice when it comes to civic interest and local amenities.
The beach in Fair Harbor is wide, the bay front is bustling in the summer months, and the sunsets in Fair Harbor are world renowned. Many dock each night at Fair Harbor to appreciate the sun disappearing into the bay.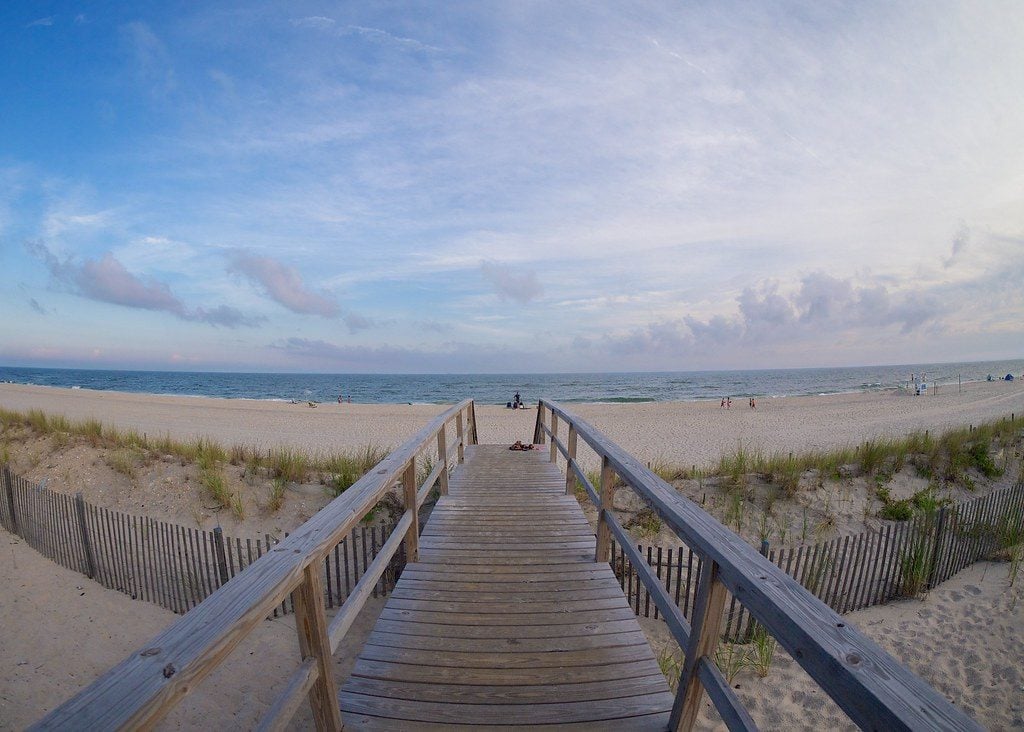 What is Fair Harbor Known For?
Fair Harbor is famous for its annual Pine Walk Arts and Crafts Fair, a Fire Island favorite, which adds to this community's bohemian beach vibe.
At the same time, Fair Harbor is an intimate family community where friendly neighbors congregate at the bay to enjoy the sunsets.
Getting to Fair Harbor
Fair Harbor by Train
To get to Fair Harbor, you can take the Long Island Rail Road from Penn Station. Trains leave Penn Station frequently for Bay Shore, which connects at either Babylon or Jamaica. Vans meet the trains for the four-minute ride to the ferry docks, or you can walk the one-mile distance.
Fair Harbor by Van
David Brothers Car Service (631-665-1515) run vans to and from Manhattan for about $25 each way. Pick up in Manhattan is near 53rd St. and Second Ave. or 68th & Third. Call for times and locations. Coming from FI, the vans will drop you on Second Ave., anywhere between 96th and 14th St.
Fair Harbor by Car
The drive takes about one hour and 10 minutes from Manhattan to the ferry dock. Take the Long Island Expressway East to Exit 53, then the Sagtikos State Parkway South to the Southern State Parkway East. Turn off at Exit 42 South and follow signs through Bay Shore to the ferry dock, located at 99 Maple Avenue.
Fair Harbor Parking
Parking is available across from the ferry terminal. If it is full, the parking attendants will tell you where else to park. Rates are $12 per day weekdays and $20 per day weekends (Friday, Saturday, Sunday) and holidays. Weekly and monthly rates are available.
Fair Harbor Ferry
It's a 30-minute ferry ride from Bay Shore to Fair Harbor and ferries run about every 90 minutes or longer.
Luxury Fire Island Homes – We are Local!
Luxury Fire Island Homes, formerly known as Fire Island Homes, is a full service real estate agency located in Fire Island, NY. We offer rental, sale, investment and property management (coming soon) services. Laura and Brian Smith, Fire Island residents, ran Fire Island Homes for over 20 years. They merged with Sydney and Susan McCoy, owners of The Real McCoy Team – Your Home Sold Guaranteed, a residential real estate team located in Long Island, NY. The Smith and McCoy family have combined forces – resulting in the largest real estate brokerage in Fire Island. With thousands of buyers in their databases, 60 years of combined real estate experience in Long Island and Fire Island, innovative marketing approaches, and value-driven ideals, Luxury Fire Island Homes is your one-stop shop for all your real estate needs.