The late Horace Gifford is one of Fire Island's most renowned architects. Throughout the 60's and 70's, he designed 63 homes on the island, most of which prioritize cedar, glass, high ceilings and natural light. Keep reading to learn more about Fire Island's Modernist Architect.
Architectural inspiration
Gifford's Fire Island home designs reflected the gay rights movement in the mid-to late 60's.
"There's an openness and implicit flirtation, and the spaces are literally named for sexual adventurism — make-out lofts and conversation pits — in reflection of a very kind of hyperactive period of social experimentation."

Christopher Rawlins – architect and author of Fire Island Modernist: Horace Gifford and the Architecture of Seduction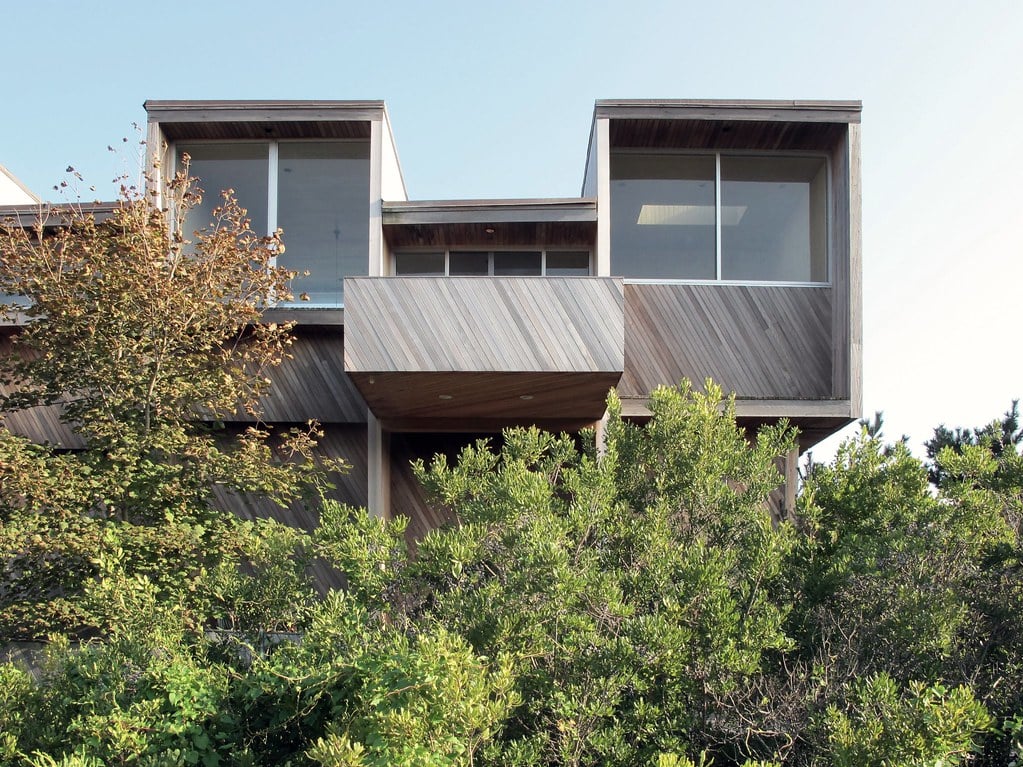 Who was Horace Gifford?
Born and raised in coastal Florida, Gifford attended the University of Florida at Gainsesville and moved to New York to work at an architecture firm. He also pursued a master's at the University of Pennsylvania with a full scholarship under the architect Louis Kahn, but left just a semester short of graduation.
After his educational endeavors, he returned to New York to work again at the same firm. As fate would have it, he discovered the Fire Island community of the Pines on a summer weekend and fell in love with the island's unique charm and social life. This trip was to alter the trajectory of his entire career. He found his calling.
Gifford offered artistry and craftmanship at an unbeatable price
Part of the reason that Gifford was so successful on Fire Island was that as a condition of working with him, customers were required to work with his team of contractors and artisans.
Him and his team ended up crafting a standard catalog of details, and then repurposing them in different forms for different projects.
First clients
His clients were members of an elite New York creative class, and they loved his designs for their inherent simplistic beauty and the way they interacted with the natural landscape, in stark contrast with the prefabricated structures that had been the norm on the island up until that point.
Untimely death and legacy
Gifford passed away from AIDS in 1992 at the age of 59. Both Post-modernism and the AIDS epidemic essentially hid Gifford's life and work in relative obscurity for many years.
It's estimated that roughly a third of the original houses that Gifford designed and built are roughly in original condition, while the other two thirds have been modified to some extent or are unrecognizable.
Architects of today see Gifford as still highly relevant to today's modern architecture. In the true spirit of modernism, he was way ahead of his time.
Luxury Fire Island Homes – We are Local!
Luxury Fire Island Homes, formerly known as Fire Island Homes, is a full service real estate agency located in Fire Island, NY. We offer rental, sale, investment and property management (coming soon) services. Laura and Brian Smith, Fire Island residents, ran Fire Island Homes for over 20 years. They merged with Sydney and Susan McCoy, owners of The Real McCoy Team – Your Home Sold Guaranteed, a residential real estate team located in Long Island, NY. The Smith and McCoy family have combined forces – resulting in the largest real estate brokerage in Fire Island. With thousands of buyers in their databases, 60 years of combined real estate experience in Long Island and Fire Island, innovative marketing approaches, and value-driven ideals, Luxury Fire Island Homes is your one-stop shop for all your real estate needs.